Okay, despite my having summer off from job #2, I seem to have my time consumed just as bad as before. Ergo, I'll try to sum up the final fifteen films I took in during my year of "a new movie a day" as succinctly as possible. Yes, I know it's sad that I stay busy to the point that it's come to this. C'est la vie, I suppose. Anyway, while I sadly fell short of my 2009 New Year's Resolution, it was only by four entries. I've been consoled that technically, I probably exceeded the goal, since I counted entire television series seasons as a single entry (like the 22 hours of Twin Peaks Season Two was counted the same as an hour and a half film would be), but I don't share such sentiment. Be that as it may, it was still a fun experiment that got me indulging in a number of films that I may never have seen. That being said, here are the last fifteen I've been needing to review for seven months (shit, I am lazy):
Day 347: Blackboard Jungle (1955) - Rank 3.5/5 - A melodramatic look at tough schools and the instructors that grapple with the mad students that roam their halls. This film sparked the creation of a subgenre that has influenced countless followers (from Dead Poets Society to Sister Act 2: Back in the Habit), including yet another treacly subgenre, the inspirational sports movie (Coach Carter, Friday Night Lights, etc.) Glenn Ford turns in an excellent performance and even Sidney Poitier makes an early appearance as a thug - a bad bit of karma that would come to bite him in the ass as we see with the next entry...
Day 348: To Sir, With Love (1967) - Rank 4/5 - The plot of this film is essentially the same as "Blackboard Jungle," except Poitier is now on the defensive end as the school instructor. Less ass-kicking and more love power than its predecessor makes it seem a little less dated, though not by much. It's Poitier's performance that makes this movie.
Day 349: The Prize (1963) - Rank 3.5/5 - Paul Newman stars as a Nobel Prize winner in Literature who bumbles into uncovering a kidnapping plot surrounding a German physicist (Edward G. Robinson). The film bears a remarkable Hitchcockian influence and it's far more enthralling than Newman and Hitchcock's collaboration - "Torn Curtain." However, there are moments where it seems like the director is working too hard to pay homage to the master of suspense, sacrificing serious tension in the process.
Day 350: A Scanner Darkly (2006) - Rank 4.5/5 - Paranoia-fueled double-dealing in a not-too-distant future injects a great deal of life into this animated Richard Linklater adaptation of a Philip K. Dick tale. Reeves turns in an excellent performance, all jokes about his wooden soliloquizing aside, as an undercover cop that begins to lose both his mind and his identity while investigating a motley crew of eccentric hoods (Robert Downey Jr., Woody Harrelson, etc.). The unique blend of conspiracy madness and psychedelic animation leaves you with a high after watching.
Day 351: King of Kings (1961) - Rank 3.5/5 - An epic in the vein of "Ben-Hur" and "The Ten Commandments." This time, the Christian topic of cinema is the life of Jesus Christ. Such a theme could easily turn into a dogmatic slice of Catholic propaganda, but the religious themes never feel overbearing (granted, that's coming from someone who was raised Catholic, so I'm sure my objectivity is a tad skewed, but I scarcely think of myself as having an altar boy mentality). Production values are as lavish as the palace of Herod (and Salome's dance for John the Baptist's head is quite the spectacle). The performances are acceptable, but far from exceptional, though be sure to watch for Rip Torn in an early role as Judas.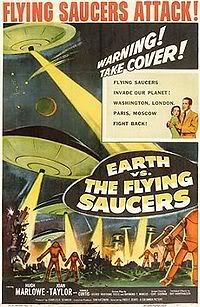 Day 352: Earth Vs. the Flying Saucers (1956) - Rank 3/5 - If you can't determine the plot of the movie by the title, then it's a sad state of affairs for you. The plot is a fairly conventional one - aliens start attacking Earth after the foolish humans take the offensive position at the onset of the film's exposition. However, what makes it more nostalgic and watchable are the special effects by Ray Harryhausen, which boast a destruction of Washington D.C., paving the scorched way for Joe Viskocil.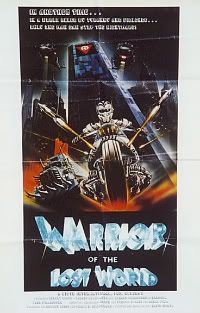 Day 353: Warrior of the Lost World (1983) - Rank 2/5 - A Mad Max ripoff that features Donald Pleasance humbling himself for a meager paycheck. 'Nuff said.
Day 354: Diner (1982) - Rank 3.5/5 - The film that put Barry Levinson (as well as its stars, such as Steve Guttenberg and Kevin Bacon) on the map is a series of nights spent boasting over greasy burgers and colas. It's akin to the directorial efforts of other auteurs who utilized their Hollywood budgets to recreate their childhoods ("American Graffiti," "Dazed and Confused," "SLC Punk," etc), but the overall tale lacks the cohesion that brings it up to their level.
Day 355: You Can Count On Me (2000)- Rank 4/5 - A single mother's world is turned upside-down when her estranged, rakish brother crashes back into her life. What could have easily been a conventional and forgettable plot is made noteworthy be outstanding performances by Laura Linney, Mark Ruffalo and Matthew Broderick. Even Rory Culkin holds his own. Only writer/director Kenneth Lonergan is painfully intolerable in his brief, self-indulgent role.
Day 356: Little Otik (2004) - Rank 4.5/5 - This Czech folk tale comes across as a nightmare under the guise of the creator behind
Alice
. A barren wife is gifted with a tree stump carved to resemble a child by her henpecked husband. On the verge of a nervous breakdown, the woman begins to believe that it's really an actual child to the point that the stump comes to life. The result is what you'd get if you slipped acid into Ray Harryhausen's coffee cup. Once the child eats the family cat, leaving behind a mangled pile of fur, blood and bones, the story enters a very dark territory that plunges ever deeper into the horrific realm of disturbing children's tales.
Day 357: Night of the Blood Beast (1958) - Rank 1.5/5 - An astronaut comes back to Earth, dead at first, but later is reanimated, laden with a belly full of aliens. What should have been fun 1950's B-grade horror schlock ended up as an exercise in tedium.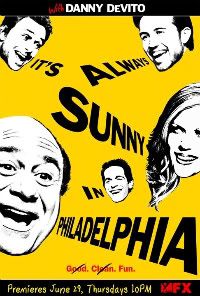 Days 358-360: It's Always Sunny In Philadelphia (2005-2008) - I'd only seen one episode of this show prior to buying the entire series (or at least as many as there are available on DVD). I have no regrets in my spending. The antics of "I Love Lucy" mixed with the indolence and selfishness of "Seinfeld" yields a match made in heaven. Danny DeVito as the foul-mouthed patriarch of this clan of petty individuals is the icing on the cake.
Day 361: Burn, Witch, Burn (1962) - Rank 5/5 - The influence of Richard Matheson on this modern ghost yarn is both obvious and welcome. A professor of folklore learns that his wife is a witch and when he forces her to cease all her "superstitious" ways, he finds himself the target of other masters of the black arts. Comparable with the mood and theme of "Curse of the Demon," this was an excellent finish to my experiment.
Well, there's the last of them. For those one or two people who actually follow this blog, my apologies for my inconsistency in recent months. I have too many projects for my own good...