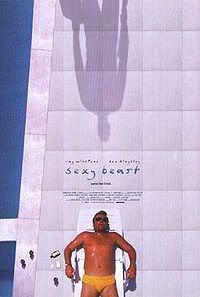 It's easy to see why Ben Kingsley received a supporting actor nod from the Academy for his performance in "Sexy Beast." It's a perfect demonstration of the actor's versatility in the cinematic realm. His turn as Don, the gangster whose perpetual, fricative logorrhea steals the show is the very antithesis of his first renowned role as the non-violent civil leader, Gandhi. But even though Kinglsey devours the scenery, the film still stands as a prime example of the British caper genre, in the vein of Guy Ritchie and other directors of that ilk.
The tale is centered around retired thug Gal Dove (Ray Winstone). Gal's living up the sweet life in Spain, soaking up the sun's rays, until Don (Kingsley) pays him a visit and asks him to come out of retirement for one last job. The man in charge of the "perfect heist" is a rogue more intimidating that Don - shadowy crime lord Teddy Bass (Ian McShane). Gal is hesitant, but Don's sociopathic persistence makes it quite clear that Gal won't be left alone unless drastic measures are taken.
The "one last job" angle is a contrived staple of the film noir genre that's been done countless times over. What makes this take on the cliche is the performances of its cast and the stylized direction of Jonathan Glazer. Surreal delusions, snappy camerawork and tongue-in-cheek song placement give the film a flair that's as cool as Gal's poolside lounge chair is hot.
Watch the Trailer