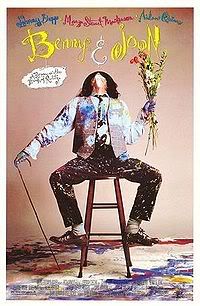 This is the role that undoubtedly sparked the notion in the minds of Hollywood directors of "Hey - Johnny Depp likes to play kooky characters! Let's exploit teh shit outta that!" Granted, his first major roles - "Cry Baby" and "Edward Scissorhands" were scarcely conventional characters, but the incessant "Look at me!" rigmarole that he seems to be pumping into many of his memorable roles as of late (Willy Wonka, Jack Sparrow and now, the Mad Hatter) appears to originate with the titular Benny.
Benny (Aidan Quinn) owns a successful repair garage and spends his free time minding his schizophrenic, artistic sister, Joon (Mary Stuart Masterson). Joon's misanthropic shenanigans are often trying for her brother, but he sticks by his sister all the same. But when a poker buddy cons Benny into accepting responsibility of his cousin, Sam (Depp), Benny's world is turned upside down (cue snarky trailer music). Sam and Joon form a close bond through their eccentricities and this relationship even helps teach Benny to love too.
A hefty portion of the plot is both cloying and predictable, and at times, a little illogical, but director Jeremiah Chechik (who proved to me that he has an eye for comedic timing after directing "Christmas Vacation") does quite well with the mediocre script. And yes, Depp does entertain. Granted, it's still the same bag of tricks with the iconic actor, regardless of the role, but I can't deny that he excels at the trade...damn it.

Watch the Trailer