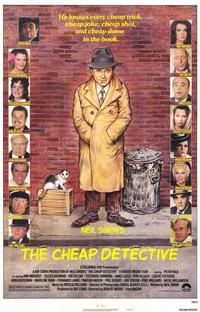 Let me begin by saying that this film has a ton of assets on its side. It's written by Neil Simon and directed by Robert Moore (whose previous film, "
Murder By Death
" is one I consider to be one of my favorite comedies). The film is a parody of film
noir
, primarily "The Maltese Falcon" and "Casablanca." Then, apart from starring Peter
Falk
, the supporting cast is
comprised
of James Coco, Eileen Brennan, Dom
DeLuise
, Madeline
Kahn
, Sid Cesar, Ann-Margret and Phil Silver, just to name a few. Why, for the love of God, is this movie so boring? It doesn't make sense. To me, such a notion would be as unfathomable as a collegiate production of
Shakespeare
actually being tolerable.
The only logical
hypothesis
I can come up with is that when Simon and Moore teamed up two years prior to spoof the detective genre for
the
first time in "Murder By Death," they used up all the possible humor that could have been derived from
the
source material. Most of the film was a mix of PG potty humor or bad puns (and if you know me, then you also know that for me to diss a pun then it must be bad). One redeeming performance is that of John Houseman as Jasper Blubber, a parody of Sydney
Greenstreet
. His dry wit handles the weak script far better than most of the other actors do. Despite being veterans of the comedic field, they tends to follow their jokes with a brief pause, as if to tell you that the last quip they made is funny. I suppose they must have consulted Dan
Colemenares
on shooting the film. "You gotta build in the laughs..."
Inside Joke!


No genuine trailer that I could find, so here's a fan-made trailer (for what it's worth)