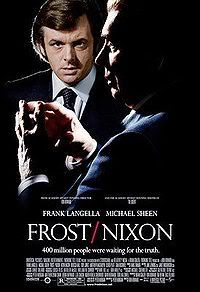 Skeletor
as Richard Nixon? Yes, long-time Character actor Frank
Langella
shines as Nixon and deservedly received ample nominations for his portrayal. It always makes me happy when an oft-overlooked veteran receives recognition. And I should note that with
Langella's
performance is less an imitation and more a reincarnation. Michael Sheen is equally as convincing as David Frost, and admittedly I was unfamiliar with this
actor
prior to the film. Undoubtedly, this film
probably
put him on the map for many
filmgoers
and studio execs alike, so I suspect he'll become more prominent in Hollywood - at least for the next couple of years.
As for the film, I thought it was a great battle of the minds depicted on screen. But the battle is an unusual one. At first, Frost and Nixon start out with the same goal in mind: to be in the spotlight once more. As the film progresses, Frost realizes his goal is selfish compared to the ultimate duty he has before him, which is exposing Nixon for who he really is. David Frost's redemption then becomes the theme and we find ourselves presented with a classic underdog story - a story enhanced by its connection to actual events. Frost, the playboy and m
ovie
interviewer, is to go up against one of the most controlling and erudite personalities he's ever met. Many of his colleagues regard his interview as a publicity stunt, or simply a joke, and Frost must overcome his own insecurities and faults to gain redemption for himself and to bring the truth about Nixon's dealings to light.
While an excellent film, I question its nomination as Best Picture by the Academy. I felt that "Doubt" should have rounded out the top five, especially since its principle cast members were all nominated for Academy Awards. That, and I didn't feel that the film was fresh coming only a scant two years after "Good Night and Good Luck;" I felt like "Frost/Nixon" was certainly reminiscent of its theme and style. Still, am I disappointed or angered that it received a nomination? No. As I said before, it, like "Doubt," was an excellent screen adaptation of a stage play. I just felt the latter did so with greater
success
.
Watch the Trailer